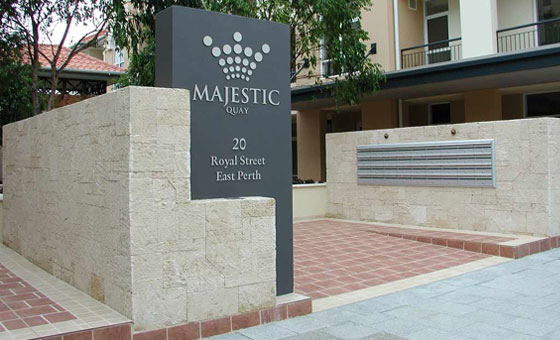 Natural Tamala Limestone Blocks
Meteor Stone have our own dedicated Limestone Block Quarry in Nowergup, WA where we quarry a range of Natural Limestone blocks for retaining walls, boundary screen walls, fences, piers and feature walls.
Our attention to detail is simply unmatched. Our extensive experience in quarrying and processing natural limestone blocks allows us to deliver exceptional products, with no compromise to quality. Our team is here to provide detailed information about our supplies so you can make an informed decision.
We can deliver a cost effective solution for your needs as we have worked extensively with numerous clients throughout Australia and international markets. Call us today and ask about our natural limestone blocks prices and Specials while supplies last.
Finish: Quarry Cut – Rough Sawn – Limestone Blocks
| Code | Size (mm) | No. Per Pallet | Kg Per Unit |
| --- | --- | --- | --- |
| MS100 | 500 x 350 x 150 | 36 | 41 |
| MS110 | 500 x 350 x 200 | 30 | 54 |
| MS120 | 500 x 350 x 240 | 24 | 65 |
| MS130 | 500 x 350 x 350 | 18 | 95 |
| MS140 | 1000 x 350 x 350 | 9 | 190 |
Limestone Blocks – Technical Specifications
Geological Name: Tamala Eolianite
Texture: Fine to medium grained
Compressive Strength: 3.5 Mpa Avg
Stone Type: Coastal Limestone
Geological Age: Pleistocene Age
Calcium Carbonate Content: 70%-95%
Flexural Strength: 2.5MPa dry 2.2MPa wet
Limestone shall be Natural Tamala Limestone by Meteor Stone, delivered to site stacked neatly on pallets and strapped.
Limestone to be free of foreign matter, pockets, veins or other defects
a) Stretcher Bond 500 x 245 x 100mm or 500 x 330 x 100mm, Or
b) Random Bond 500 x 330 x 100mm and 500 x 159 x 100mm
a) Diamond cut faces and edges, tungsten cut perps, Or
Tungsten cut face and perps, diamond cut edges.
Lay limestone on a full bed of mortar and fill perp ends solidly.
Housing bricks are cut to allow 10mm joints. Quarry blocks are cut to allow 20mm joints
a) Rolled to a depth of half the width, Or
b) Raked to a depth of half the width, Or
c) Flush and sponge finish, Or
d) Flush, trowel cut and sponge finish
i) Set out stonework, plumb, level and properly bonded. (See specified laying pattern).
ii) Ensure face selection of each stone.
iii) Mortar to comply with Australian standards.
iv) Water to be scheme water.